Over 400 people visited the Expo over the weekend.
These people were:
in the process of building
land owners wanting to build
future Owner Builders
All attended the Expo to source information to make their dream come true.
That dream " To build an Alternative, Sustainable, Energy Efficient Home"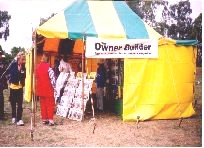 Magazines, Books and Info galore

All demonstrations were keenly watched.
Making and Building with Mudbricks
Exhibitors included:
Mudbricks
Solar Power
Strawbale Building and Rendering
Wind Power
Architecture and Design
Magazine / Books
Stone Building
Education and Tour Providers
Do you have an Alternative Building Product that you would like to Showcase at the next Expo.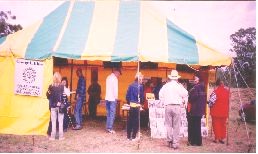 Lots of info in one Marquee
Are you thinking of building with Alternative Products?
Like to visit the Expo and see whats available.
Go to Bealiba Great Southern Alternative Building Expo website.